Willemijn Verkaik is back! The Dutch actress, who is in her record-breaking tenth year of playing the Wicked Witch of the West, returns to the stage of the London Apollo Victoria. With more than 2000 played shows in four countries, she is likely the one actress with the most played Elphaba shows. But not only the return of Willemijn Verkaik is a reason to see the show.
Wicked, the story of the two witches is most likely a thing for a lot of musical fans. The musical tells the story of the two very different witches Glinda (Suzi Mathers) and Elphaba (Willemijn Verkaik). Both fight for the good and the keeping up of Oz. The opening shows Glinda, the good witch, who tries to tell the citizens of Oz how Elphaba only wanted good for Oz. They however, celebrate the death of the Wicked Witch. But didn't know Glinda Elphaba from their time at Shiz, the magical university of Oz? She did and so Glinda, who was known as Galinda back then, tells them Elphaba's story, from her birth to her inevitable death. She tells how she became like she has been. From her green skin to her disabled sister Nessarose (Sarah McNicholas), who needs a wheelchair since the day she was born, because her legs weren't working. Galinda and Elphaba first meet at Shiz were they are forced to share a room, much to their dismay. Their relationship suffers further when directress Madame Morrible (Sue Kelvin) discovers Elphaba's magical talent and takes her on as a student. Galinda is furious about this but recovers quickly when Fiyero (Oliver Savile) makes his appearance. The handsome boy wins Glinda's heart and she is smitten with him until he changes after him and Elphaba save a lion cub from being tortured by a soldier from Oz. Glinda, as she is now known, is miffed about Fiyero's behaviour and Elphaba takes her with her to Oz where she is supposed to meet the Wizard (Mark Curry). They want to tell them how ANIMALS are handled nowadays. They are forbidden the power of speech, which also includes one of their teachers, Dr. Dillamond (Russel Walker), a goat who used to teach history classes at Shiz. However, quickly they find that the Wizard is only interested in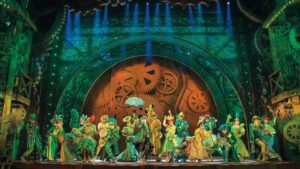 Elphaba's power and Elphaba denies to work for him. Glinda wants her to apologise and take on their chance to get power and fame but Elphaba refuses and flees from Oz.
Glinda however is used by the Wizard and Madame Morrible, who is now press secretary, and represents the good in Oz and counterpart to Elphaba, the Wicked Witch of the West. She gets engaged to Fiyero who isn't amused of the change of things and helps Elphaba to flee when she is taken into custody by the guards. Fiyero runs away with Elphaba, the woman he really loves. But Elphaba's sister is killed in a storm magically made up by Madame Morrible, she returns and get captured. Fiyero rescues her but gets arrested himself. In an attempt to help him she uses her magic, however she is unsuccessful and much like Nessarose's butler Boq (Idriss Kargbo) who she had turned in a tinman, Fiyero becomes a scarecrows. Elphaba swears to no longer do good magic as is always turns out bad and so she finally and irrevocable becomes knows as the Wicked Witch of the West. The Witch hunters are going after her. Glinda wants to help but Elphaba declines this. She already has a plan and escapes. Everyone thinks she is dead. She and Fiyero are reunited and leave Oz.
Willemijn Verkaik celebrates a triumphant return to London. When she first steps on stage, you know how many of her fans made their way to London. Before she said or sang a thing they cheer her on stage. But she lives up to this welcome and her reputation. Her voice and her acting are flawless and she proves her worth. Only one small thing might be reason for critique. In comparison to some of the other actors, especially Oliver Savile as Fiyero, Verkaik looks older than the young student Elphaba. As soon as her role ages and she lives her role as the Wicked Witch she becomes the perfect match. You notice that Verkaik lives the role and enjoys playing and singing it. She is passionate and authentical up to the last note.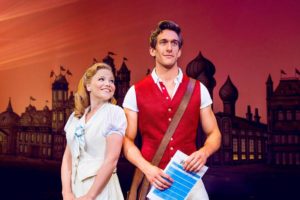 Not less talented is Suzie Mathers, who plays Glinda, Elphaba's opposite. The Aussie, who already stared the international tour in Asia and Australia, as Glinda, debuts in West End in Wicked. Her interpretation might let you think of Kristin Chenoweth, who originally created the role. Mathers brings forward a solid interpretation and plays all facets of her role, ranging from the blond to the matured good witch, very well.
Two other female roles welcome back actresses to the show. Sue Kelvin as Madame Morrible and Sarah McNicholas as Nessarose both show with they are reprising in their roles. Both play with much dedication and win the love of the audience with their lovely voices.
Among the males, three actors show off. Above all one needs to name Oliver Savile as Fiyero, who wins over the hearts not only on stage but also in the audience. His voice and his acting make him perfect for the role of the charming scoundrel. His opposite is Idriss Kargbo as Boq, who is far more introvert and secretly admires Glinda. Not the first time a black actor was casted for the role and Kargbo shows how much a show can profit if casting directors open up to new types of actors and don't stick to a certain kind. Karbo, who already stared as young Simba in Lion King and young Micheal Jackson in Thriller Live! plays all sides of the young Munchkin with great dedication and perfects it with a lovely voice. The trio of guys is completed by Mark Curry as the Wizard. Before he joined the Wicked cast in 2016 he successfully completed runs in Victor/Victoria, The Rocky Horror Show and The Woman in Black. Charmingly he models the role of the wizard so you like him nevertheless he has no nice motives for his doing.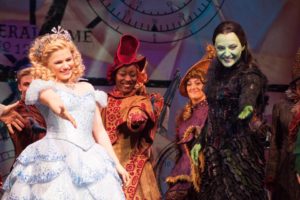 Naturally the entire ensemble does a fantastic job with their singing, acting and dancing. The show is full of talent which make Wicked a magical experience. Staging, costumes, light and sound design only add to this experience. Wicked is after ten years run in the West End still worth a trip.
Tickets and all information on the show can be found HERE. Willemijn Verkaik will most likely stay on until July. All information on her and her schedule can be found on her FANSITE.