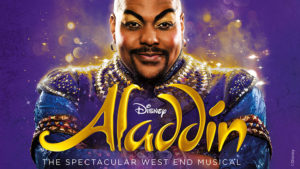 "Welcome to the fabled city of Agrabah! City of flying carpets, soaring heroes, famous love ballots and more glitz and glamour than any other fictional city in the World!" That is, how the Genie gives you an idea of what to expect during the next two end a half hours in which the company of Disney's Aladdin takes you into their world. Colourful, magical, absolutely Disney classic all this can perfectly describe the adventure you see in London's Prince Edward Theatre. Fans of the Disney classic from 1992 that built the basis for the musical however, might notice some minor and major differences between the film and the musical, which premiered in 2011 and got some new musical numbers for the stage adaption.
Hero of the story, young Aladdin (Matthew Croke) lives on the streets of Agrabah and lives of stealing from street vendors. His life is therefore a constant flight from the palace guards. Together with his three friends Babkak (Leon Craig), Omar (Miles Barrow) and Kassim (Daniel de Bourg), he tries to come up with new ways to earn their living. They stage a show for the locals at the market and hope that busking helps them to raise some money for their living. During the show Aladdin bumps into Jasmine (Jade Ewen), daughter of the Sultan (Irvine Iqbal) and therefore princess, who fled from the palace because her father wants her to marry. Both fall in love and flee from the palace guards. In the meantime the Sultan`s Grand Vizier Jafar (Don Gallagher) and his assistant Iago (Nick Cavaliere) make plans for Jafar to assume power over the throne. Jafar therefor wants to get his hands on the lamp of a genie, but only "the diamond in the rough" is able to get the lamp out of the magical cave. Aladdin happens to be this person. Jafar instructs him to touch nothing expect the lamp and bring it straight to him. Aladdin however, cannot resist all the gold. He is trapped into the cave and rubs the lamp. Genie (Trevor Dion Nicholas) appears, frees them from the cave and grants Aladdin three wishes. Aladdin promises Genie to free him with his last wish, his first one however, he invests in becoming a prince so that he is able to court the Princess Jasmine.
Aladdin's friends are made his entourage and all parade into Agrabah. Towards the Sultan Aladdin expresses his wish to marry Jasmine. She however is very reserved about this idea until he takes her to a ride on his magic carpet where she discovers that Price Ali is none other than Aladdin, whom she has fallen in love with. Jafar, who sees his plan to assume power in danger, is able to arrest Aladdin and his friends who came to his rescue. Aladdin can use his second wish to free them, but before he can wish anything more, Jafar takes over power of Genie and wished himself to be Sultan. To safe them all of Jafar, Aladdin tricks the evil man into wishing he was a Genie himself and therefor is able to capture him in the lamp. Genie becomes free and Jasmine and Aladdin finale get their happily ever after.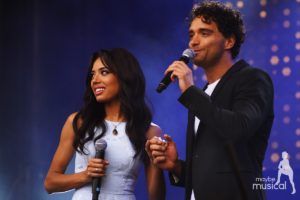 In comparison to the film from 1992, the musical got a makeover. Some things have been added, some deleted, most of them to help to carry out a stage version of the film. For the musical version, seven new songs were included. Three of them had been written by Howard Ashman for the film but did not make it into the film and Alan Menken and Chad Beguelin wrote four additional ones exclusively for the musical. Other changes between the two versions include the replacement of Jasmine's tiger by three handmaidens (Melanie Elizabeth, Sadie Jean Shirley and Tarisha Rommick) and probably one of the most notable changes that Iago is no longer a parrot as in the films but rather a human assistant to Jafar. The characters of monkey Abu and Jafar's henchman Gazeem had been completely deleted for the musical version.
The story however, also works without them (although a cute little monkey would not have hurt…). Everyone on stage delivers a spectacular show with strong voices and powerful dance moves. The colourful costumes make it hard to decide where to look first, especially in scenes where the entire ensemble is one stage. And even more magic is happening right before your eyes, when Jasmine and Aladdin mount the flying carpet and float several meters above the stage floor. It's a pity that the magic of this scene is completely destroyed by several people trying to take pictures of the moment so that the front house staff repeatedly need to come into the audience to prohibit this. But bar such incidents the creators of the show brought a magical world with beautiful sceneries and stunning costumes to live.
The entire leading cast also does a magical job by bringing the Disney heroes to life on stage. Which little (and not so little) girls has not once dreamed to be a princess like Jasmine. Jade Ewen makes this dream come true. Her beautiful voice, Jasmine-like look and awesome acting skills make her a fantastic princess, who also shows how headstrong the character is.
Similar dashing and handsome is the name giving hero. Matthew Croke, who recently took over the role of Aladdin. Previously he starred in shows like Wicked, Chicago and Grease and has been touring the UK with West Side Story and Singin' in the Rain Aladdin however is his first role as leading man. His previous experience on stage prepared him well for this role. His dancing as well as his singing are amazing and therefore make him not only in looks a perfect Aladdin.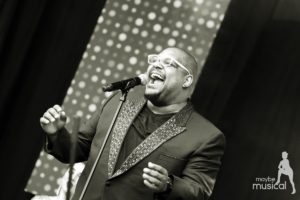 The secret (but not so much secret because of his impressive appearance) star is US-star Trevor Dion Nicholas as Genie. Before he made his West End debut, Nicholas already had played the role in the Broadway production of the show. His booming voice echoes through the entire audience and captures each and everyone's attention. He is great in transporting the not so subtle jokes of the show and makes great magical entrances in his role of the Genie.
But not only the three leads make a magical show, also everyone else from Aladdin's three friends Babkak, Omar and Kassim to Sultan and Jafar become so great in playing the well-known Disney characters that you are drawn into the beloved story. Especially Leon Craig, Miles Barrow and Daniel de Bourg show how much dancing and singing skill they possess when they rock the stage during their songs.
If you decide to see the show, you are in for a magical evening in the West End, which leaves you longing for a bit more magic in your every days life.