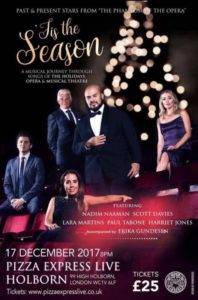 German translation
When the past and present stars of The Phantom of Opera celebrate Christmas with an intimate little Christmas concert, you are in for a treat. Former leads Harriet Jones and Nadim Naaman, together with present stars Lara Martins, Paul Tabone and Scott Davies, who unfortunately was ill and couldn't sing the concert, had prepared a festive mix with old and new Christmas classics and some (not so festive) other songs.
Starting with one person short might not have been the easiest as the four stars had to rearrange their prepared program last minute to make up for the missing partner in crime, but oh what a great job the four of them did. The PizzaExpressLive venue in Holborn is closer to a basement bar than a concert hall in design but that suited the occasion perfectly. A very intimate setting with close proximity between the singers and their audience made you somehow feel like you have been invited into their homes for a round of Christmas caroling.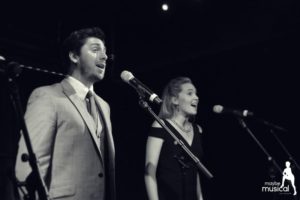 Soprano and former Christine Harriet Jones is a force by herself. It doesn't matter if she is singing solo or a duet with her former Raoul Nadim Naaman, her clear and perfect voice brings tears to the eye. However, she also shows her funny side, when singing about "the little egos actors have" and isn't taking herself too serious.
Nadim Naaman is not any less talented than Jones. The former Raoul actor jumps into the role of the host, which he is doing great. His duet not only with Harriet Jones, but also with Paul Tabone is heartwarming. And for sure it doesn't hurt the cause that he seems to have the perfect voice for the timeless Christmas classics the bunch is performing. Maybe his next CD project should be a Christmas CD…?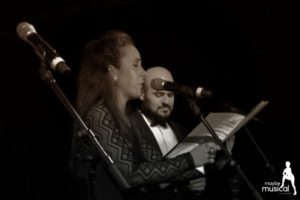 Phantom of the Operas resident diva Carlotta, better known this evening as Lara Martins has such a flawless voice that you nearly won't notice that she isn't completely fit this evening either. Her voice still sounds perfect and just a real pro will notice her illness. Her interpretation of Christmas classic "Have yourself a merry little Christmas" seeks something comparable and really makes you feel Christmas in your heart.
Last but not least in the round is Phantoms Ubaldo Piangi, Paul Tabone. His interpretation of songs we all know like "The Prayer" but also the less well-known songs like "My grown-up Christmas list" (as a duett with Lara Martins) are touching heart-warming.
All four of them are a force on stage and lovely off stage. The applause at the end of the evening shows bright and clear: This concert format needs a repetition in each season of the year!