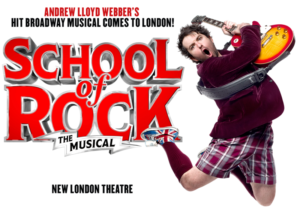 The new musical School of Rock, based on the film with Jack Black from 2003, celebrated its world premiere in December 2015 on Broadway before transferring to London's West End in November 2016. With music by Andrew Lloyd Webber, lyrics by Glenn Slater and a book by Downtown Abbeys Julian Fellows one could already expect a new hit musical but when putting the kids, who all play their instruments live during each show, you do not get a musical, you are more likely to attend the musical version of a rock concert.
Dewey Finn (Stephen Leask) is fired as lead guitarist from his own band No Vacancy. With only some short weeks until the famous battle of the bands that could make him famous and the need to pay his outstanding rent to his friend Ned (Oliver Jackson) and his girlfriend Patty (Preeya Kalidas), Dewey is desperate to find a job that allows him both: earning money and play his music. When principal of posh school Horace Green, Rosalie Mullins (Florence Andrews) calls to offer Ned, who works as substitute teacher, a job, Dewey sees his chance to earn money very easily. However, when he comes into the school, it is very different from what he expected. It is all about the high standards, good grades and order, something that Dewey could not work with, even on his best days. Therefore, he is very surprised when he finds out, that all children in class are part of a music class taught by Ms. Mullins. He sees his chance to find a band for the battle right there in his class. He teaches them to rock and after a while, all children are on fire for the battle. With a bit of luck they are able to qualify for the battle.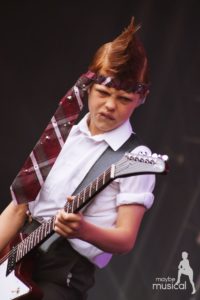 Its only 36 hours until the actual battle of the bands and Dewey has to think of a way to convince Ms. Mullins to let him take the children on an "excursion". Ms. Mullins, stressed about the upcoming parents' night agrees, while being on a date in a rock club with Dewey, that she will let him do the excursion if the parents' night goes well. At home however, Ned discovers by receiving a pay cheque from Horace Green that Dewey had pretended to be him. After some begging by Dewey, he agrees not to tell anyone, especially Patty, about this until after the Battle. Next day at school, the band rehearses their battle song, written by guitarist Zack (Toby Lee), when Rosalie Mullins brings the parents to class. After an uproar, Dewey convinces the parents of the talent their children possess, then however Ned and Patty come into the class and she reveals that Dewey isn't Ned and not even a teacher. Chaos takes over during which the band escapes and makes their way to the battle. When the parents arrive at sight, they are stopped by security from disturbing the performance and The School of Rock performs at the battle. Although Dewey's old band No Vacancy wins the battle, the children and parents find a new way of dealing with each other. When Patty brings the police backstage to imprison Dewey, Rosalie Mullins names him Horace Green's official band coach, indicating the change that will take place at the school in the future.
Previous experiences with child cast told us not to get too excited, but this production shows how many talented children are out there. They all play, sing and act up to a level some grown up actors do not show. Some of them, like Eliza Cowdery (Katie), Bailey Cassell (Freddy) or Toby Lee (Zack), even play their own instruments live at every show. It is absolutely stunning how great all of them are. And even if they are not playing an instrument like Agatha Meehan as Summer, they have such great acting skills, that we can absolutely expect to see them becoming big stars in the future.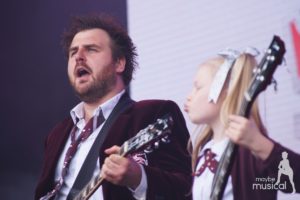 Stephen Leask as Dewey Finn leads the children's band at this performance. With his characteristic voice and total commitment during the show he is a star himself, although they kids are definitely battling him for this job.
Although she has as Principal Rosalie Mullins, next to the parents, the spoilsport-role, Florence Andrews does a fantastic job. Her clear voice carries through the room in the classic musical songs as well as through the rock songs later on. She acts both as a spoilsport as well as later when she backs up the band very convincingly and can convince with her role's development.
With a half-round stage, the audience is included in the events happening in the end. Especially when the actors come down the aisles or watch the battle from the audience, you feel as being a part of the play and not only an uninvolved visitor. The entire set-design has been modelled to fit this situation in the theatre and makes a great match for the show. The band of "grown-ups" resides above the stage to the side and seems to be the biggest fans of the kids-band as they immediately come out from behind their instruments and watch the kids when they play all by themselves. They however do a great job themselves when rocking to the sound of Andrew Lloyd Webbers score.
The whole package of kids, adult leads, scenery and band makes School of Rock a great new musicals that promises fun for adults as well for children.