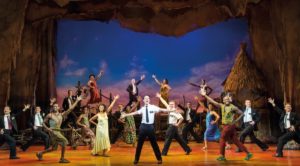 Since 2013 the Mormons are part of the West End community. The Book of Mormon tells the story of the Mormons in a unique, funny and quite sarcastic way. Along the way all other religions, ethnics and nationalities are attacked.
The story goes along with star pupil Elder Price (KJ Hippensteel) und his slightly gawky mission companion Elder Cunningham (Brian Sears). Elder Price is horrified when they are sent on their mission to Uganda in Africa and not towards Orlando as he expected. In addition, Uganda is less Lion King like than they thought. A general (Delroy Atkinson) is terrorizing the village they are sent to. The villagers don't want to know a thing about religion and just want to keep their heads down.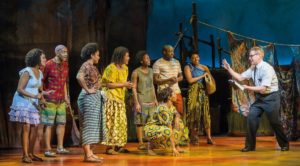 Long story cut short, until now there are no new Mormons for the Church of Jesus Christ. However, with Elder Price in Uganda everything should change. His success however is questionable. With a made up story about how the Mormons were able to solve their problems, Elder Cunningham in the end is successful in bringing them into the church. When the mission president (Oliver Ormson) gains knowledge of the success the elders have in Uganda, he decides to visit their section. But since Elder Cunningham told the villagers a made up story chaos can be expected. The villagers present the story they were told and it ends with a disaster. The mission president tells the elders to return home. They however finally understand that they made an impact on the people they christened into the church. They stay on and save their mission. In the end it' one thing that matters to them: "I am Africa!"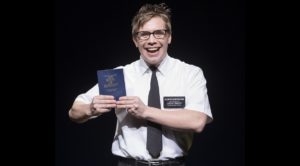 The Book of Mormon holds a lot of things that makes it a great show. The musical offers an adventurous flight through the story of the main characters which offers lots of laughter. The cast offers great work to their audience. Mainly one needs to name the principals KJ Hippensteel and Brian Sears who play Elders Price and Cunningham. Both play their roles with great enthusiasm and perfect singing, they amaze their audience. An amazing piece of singing is as well presented by Alex Ncube as Nabulungi, daughter of the village chief Mafala Hatimbi, played by Richard Lloyd-King. Her clear voice amazes similarly during solos and duets. The entire cast at Book of Mormon is doing a great job. Powerful acting, strong voices and jokes on the point give the show everything a great performance needs. Steven Webb as Elder McKinley can be named as an example which great every single one of them is doing. With wit and charm he plays the role in a fantastic way.
Concluding The Book of Mormon is a fantastic show for everyone to have two hours filled with laughter and great entertainment.