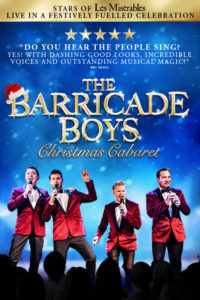 Christmas with the Barricade Boys, that's the thing of the season. Scott Garnham, Simon Schofield, Kieran Brown and Craig Mather have been playing their absolutely fantastic Christmas show for a three-week run at The Other Palace near Buckingham Palace. And in for a royal treat you are. The "Les-Miserables-Boyband" shows off all their skills from a heavenlike "Silent Night" to "Bohemian Rhapsody".
Starting off with one of their classics "I dreamed a dream" promises great entertainment The Studio at The Other Palace proves to be the right choice of venue for the boys' Christmas show as the very intimate setting underlines the Christmas spirit, even during non-christmassy songs. Fun elements like their version of "Twelve days of Christmas" make their concert an entertaining afternoon that leaves you with the right kind of Christmas spirit afterwards.
Leaders of the boyband are Scott Garnham and Simon Schofield. Both of them who have been part of the 25th anniversary cast of Les Miserables formed the group some time ago and today celebrate a great success with playing all over the world.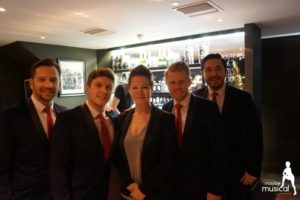 Scott Garnham, who recently starred in Billy Elliot, captivates with his beautiful voice. He seems to be able to sing all the songs on the set list flawlessly. Although he is not the born dancer, that role in the group for sure belongs to Simon Schofield, he is doing a charming job in bringing Christmas joy to his audience.
Simon Schofield, the most enthusiastic dancer of the group, is a charmer. Dancing and singing vice, he takes up to the challenge of competing with the rest of the Boys for the audience's love.
As special guest they welcome Nikki Gerrard during this show. Garnahms former stage mum from Billy Elliot stepped in as a last-minute guest as originally scheduled Shona White was at home ill. Gerrard sang, with nearly no time to prepare, two beautiful songs and so lightened up the afternoon.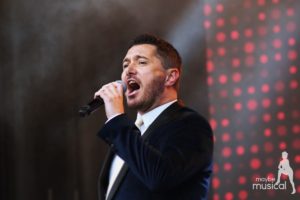 Kieran Brown, although being ill, does a fantastic job. His job seems to be the "funny one" of the group. Starting the festive Christmas party spirit of with a glorious interpretation of "Sparklejollytwinklejingley" fills the room with joy and laughter and promises more of this to come.
Craig Mather, who from time to time seems to be kind of like the youngest brother in the group, makes up for this with his clear and beautiful voice. He might be newer to the Barricade Boys than the rest of the group, but he is still an amazing singer.
All of them are such great singers and entertainers that you don't wish for the concert to end. The Barricade Boys have created a wonderful, festive and cheery entertainment. With a mix of their Best and some Christmas classics they have created a joyful first-class entertainment for everyone.