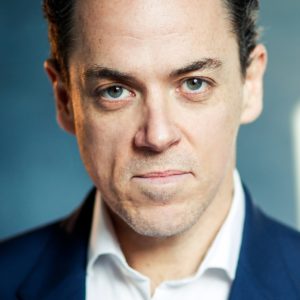 Jeremy Secomb is probably one of London's most loved villains at the moment. No matter if you are #TeamValjean or #TeamJavert, you must love his breathtaking interpretation of 'Stars'. Since he moved to the United Kingdom from Australia, he has been cast in several well-known shows, including Phantom of the Opera (Piangi and Cover Phantom), Evita and Sweeney Todd. Recently he played the role of the Demon Barber also in the New York production of the show. For the role he had been nominated for a Drama Desk and the Theatre World Award, which he won in the category "Outstanding Broadway or Off-Broadway Debut". At the moment and until mid-July Jeremy is playing the role of Javert in the London production of Les Miserables.
Lena Gronewold: You are originally from Australia what made you come to the UK?
Jeremy Secomb: I'd just finished a 2 1/2 year tour of Phantom of the Opera in Australia and New Zealand. There wasn't a lot happening in Australian musical theatre at that point, so I decided to head over to the UK to see what it was like over here. I had an English Grandfather so was eligible for a Visa.
Lena Gronewold: Was it your dream to perform on stage or did you seek another career?
Jeremy Secomb: When I left school I didn't really know what I wanted to do. So I got a job in a bank (Hated it). At this point, I hadn't even seen a professional musical. I saw my first one in Sydney when I was 22. I sat in the audience thinking……. OK, this is something I can do!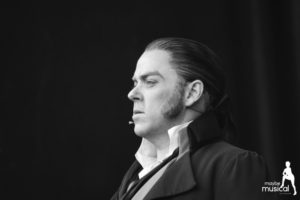 Lena Gronewold: Currently you appear as Javert in Les Miserables. I honestly never witnessed people cheering that loud when a character dies. Not that you did not deserve the applause, you totally do, but isn't it a bit weird to get applause after committing suicide?
Jeremy Secomb: It's a strange one this one. It doesn't happen all the time. But on average I think the audience applauds more than don't. I'm hoping that the audience is applauding my performance more than applauding the actual death of the character. I personally like it when the audience is silent after the song.
Lena Gronewold: Before you joined Les Miserables, you were part of the company of The Phantom of the Opera. As Les Miserables it's been running for 30 years. What do you think is the secret of success of such shows?
Jeremy Secomb: The stars aligned for these big, long running, Blockbuster shows. It was an incredible time for the creatives and the original casts of them. One of the things that they all have in common is Cameron Mackintosh. He was / is a visionary and a hell of business man. Then you have composers / lyricists like Andrew Lloyd Webber / Charles Hart and Claude Michel Schonberg / Alain Boublil. Then you add the directors, choreographers, designers, orchestrators etc…… It really was the perfect storm for those shows. They captured the public's imagination and hearts.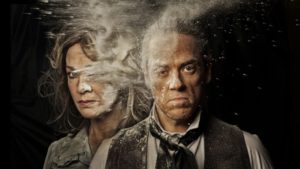 Lena Gronewold: Speaking Phantom, you also understudied that role. Can you imagine donning the mask full-time?
Jeremy Secomb: That's something that I'd love to do at some point in the future. But it's something that's not just up to me.
Lena Gronewold: Last year, when all three London Phantoms were down, you literally ran down from the Queens Theatre and saved the day by playing the Phantom. Is it weird being on in two such big roles and musicals during one week?
Jeremy Secomb: That was a crazy few days. I think the weird thing about that was that my brain remembered The Phantom role after a year. I'd done 2 different shows since I'd left Phantom. So I was impressed it was all still in there. It's something I'll always remember though. Playing two very iconic roles in in consecutive days.
Lena Gronewold: You also played very successfully in Sweeney Todd, both in the London as well as in the New York production. Being in a musical in New York, an actor's dream come true?
Jeremy Secomb: I think it's something that every actor wants to do at some point, be invited to perform in New York. I was lucky enough to be asked to recreate the role in that production was a massive dream come true.
Lena Gronewold: With such a handful of great musicals you have been starring in, are there any you have on your wish list for the future?
Jeremy Secomb: I've been very lucky in my career to do some great shows and work with great people. There are roles that I'd love to do and will work towards them. My main goal is to continue to work in the industry and hopefully do good work.
Lena Gronewold: You sang a track on Nadim Naaman's album "Sides". Is making an album of your own on your future to-do-list?
Jeremy Secomb: It certainly is something that I'd love to do.
Lena Gronewold: Seeing all the fun you have (we think of things like #ScareCam and #MustbeJavert) it seems like theatre community is like a big loving family. Is that reality or do you feel the pressure and competition among the cast?
Jeremy Secomb: There is competition in the industry which is inevitable. But I'd like to think its friendly competition. I wish every person in the industry well, whether I know them or not. But when you're in a cast and spending a year together in a Theatre, you become a family of sorts.
Lena Gronewold: You leave Les Miserables mid-July. Any hints where we are going to see you next?
Jeremy Secomb: No hints at the moment. Keep an eye out on my twitter feed. @JeremySecomb. I'll update as and when I can.