The masterpiece written by Alain Boublil and Claude-Michel Schönberg based on the original work of Victor Hugo, has been bringing people to the theatre in London since 30 years.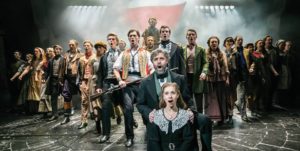 Toulon, 1815. The audience is taken to the world of Jean Valjean (Adam Bayjou). Because of stealing he was imprisoned. When he is released from prison, his life does not become much easier. In the end it is a priest who helps Valjean to start a new life. He becomes the mayor and factory owner in a small town. However, his past is still hunting him. Inspector Javert (Jeremy Secomb) is still on the hunt for Valjeans because he does not believe he became an honest man. Other problems are also coming into the picture. Fantine (Patrice Tipoki), a former worker in Valjean's factory becomes a prostitute to earn the living for her daughter. One leads to another and Valjean acknowledges that he is part of the problems that sent Fantine into her situation. On her death bed, he promises her to care for her daughter. But Javert interferes once again and Valjean has to take a run with the girl named Cosette in tow, who he had before rescued from the Thénardiers (Katy Secombe & Phil Daniels). They go to Paris where they start to live a very withdrawn and peaceful life.
However, the peace is not lasting forever. The revolution continues in the streets of Paris. Cosette (Zoe Doano) meets Marius (Craig Mather), coming from a wealthy background, who fights along with other students in the revolutionary force. While Marius and Cosette seek their love in times of trouble, Eponine (Eva Noblezada), the daughter of the Thénardiers, who also moved to Paris, stays lonely. The story moves on and once again Javert appears who still is on the hunt for Valjean. The fights in the streets end with lots of deaths. Only Marius can be rescued by Valjean, badly injured. While Javert, despaired by his own actions, commits suicide, Cosette and Marius marry. Only one is missing on this happy day in their life: Cosettes father. Valjean knows that his life is coming to its end and he retires to loneliness to make peace with god. But Cosette and Marius find him in time to say goodbye before he dies.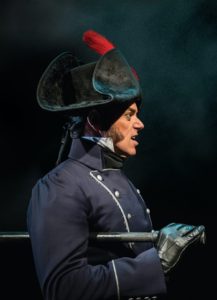 The London production of the classical musical piece wins over their audience with a high-class cast. Adam Bayjou, covering the role of Jean Valjean shines and dominates the show with his presence on stage. His interpretation of the character is desperate and somewhat aggressive. He shows Valjean with all his facets from the brutal thief and prisoner to the loving father. His counterpart Javert, played by Jeremy Secomb, hits home not only with his interpretation of the character but also with his voice. Secombs voice brings the needed fear when Javert is speaking and also shows the desperate man behind the mask.
The audience is bewitched and in love with Zoe Doano and Craig Mather as Cosette and Marius. Doano's lovely soprano voice carries out the songs with an unbelievable easiness.
Adding to this are the Thénardiers with their comical aspects, which are carried out perfectly by Katy Secombe and Phil Daniels as well as by Eva Noblezada and Patrice Tipoki, who add their piece of drama as Eponine and Cosette. They bring tears to the eyes of the audience with their respective deaths.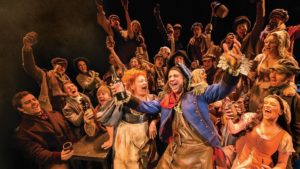 All in one the entire cast of Les Miserables carries out brilliant work, which can only be found in very few productions. Who likes to see (most) of the main cast still has the chance as they are staying over the cast change. More information regarding the show and the cast can be found at: http://www.lesmis.com/uk/news