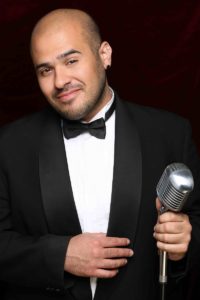 When in London, Paul Ettore Tabone welcomed us to his dressing room at Her Majesty's Theatre where he is currently playing the role of Ubaldo Piangi in The Phantom of the Opera. The Australian-Italian has been born in Australia, where he also studied Music Theatre at the Central Queensland University's Conservatorium of Music. He has been honoured as "Most Promising Voice for Music Theatre" in 2007 and 2009. In 2011 Paul was chosen to play the role of Squelch in the Australian production of Andrew Lloyd Webbers Love Never Dies. 2015 he returned to play the role of Squelch in the German premier of Liebe stirbt nie.
Lena Gronewold: Originally, you are from Australia. What did you make leave Down Under for Europe?
Paul Ettore Tabone: Well, after I finished Love never dies in Australia I decided to take a more operatic path. For that reason I moved, together with my partner at that time, to Italy. We were both Italian and also have the Italian citizenship, so we took advantage of that opportunity. We moved to Europe to study Opera some more and go down that path.
Lena Gronewold: You were the first to play Squelch in the Australian as well as in the German production of Love Never Dies. What is special about being the first one to play a role?
Paul Ettore Tabone: To be fair Love never dies in London didn't have the same opportunity as the Australian production did. So when Andrew Lloyd Webber gave Simon Phillips (A.d.R.: director of the Australian production) a carte blanche for this production, they invested a lot of time for direction and reorganization of the music and tried to make the production work. Fortunately I was lucky enough to be involved in the work that Simon Phillips did because he had a very good and clear idea of something that really worked. I was just lucky enough to be chosen to be part of that. We can give as much credit to me as we can by saying I originated the role but if it wasn't for his incredible gift to put together such a wonderful show it wouldn't be as it is today.
Lena Gronewold: From Sequel to Prequel – you are currently playing in Phantom of the Opera in London. Did you have the chance to work with Andrew Lloyd Webber?
Paul Ettore Tabone: Yes, we did! But to be honest that is not something new for me. In Australia we spent a lot of time with Andrew and in Hamburg as well. And we were so lucky, just before the 30th anniversary concert last year, we got to have one-on-one rehearsals with Andrew. Working with the Maestro is a wonderful opportunity. 
Lena Gronewold: Do you enjoy living in London?
Paul Ettore Tabone: I love London! I feel like in all my time so far in Europe, London is the half way between Europe and Australia for me. So I really do love this city.
Lena Gronewold: What do you do in your free time?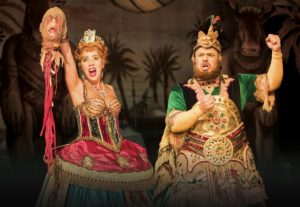 Paul Ettore Tabone: We only get really one day off the show per week. However, Lara Martins who plays Carlotta and I formed this real close friendship and we started producing some cabarets, which we started to perform over London and it has gone really well. So we've being dubbed as the West End Operatic duo and people have come from far and wide to watch our cabarets. That is something we really want to continue and develop. That's what we are doing in our free time.
Lena Gronewold: You were working in Hamburg recently as well. Which city do you prefer – London or Hamburg?
Paul Ettore Tabone: I miss Hamburg a lot. The difference between the two is that Hamburg is a beautiful city, which although it was cold, has so much light. That's what I particularly miss about Hamburg.
Lena Gronewold: You do Opera as well as Musical. What are the challenges in doing each of them?
Paul Ettore Tabone: Well fortunately my role here at Phantom is very operatic. I suppose that the challenge would be, although that we are singing quite operatic roles in the opera world we would never have to sing this kind of repertoire eight shows a week. In opera we would sing four shows a week max with breaks between and this is incredible what I learned from this role I am playing eight shows a week. They gave you such stamina to be able to go back into opera with a real good technique which you have built in a show like this.
Lena Gronewold: When you lived in Italy you appeared on stage with Placido Domingo and Andrea Bocelli and sang for 20.000 people. Can you describe that feeling for us? Is it a difference when you sing for so many people?
Paul Ettore Tabone: You know it's strange. Singing for 20.000 people at one time is a different vibe. But then I think about every show that we have here is with about a thousand people in the audience, so on a weekly basis we sing for 8.000 people. It's however a different vibe in Italy. It's the home of opera and being able to share the stage of Arena di Verona at such a wonderful occasion. I was 24 at that time and it was a dream come true for me. It feels different. You got a lot more pressure in opera I think, but when you finish a song like "O sole mio" or something traditionally Italian like that, it's an incredible feeling.
Lena Gronewold: Good guy or bad guy – which roles do you prefer and why?
Paul Ettore Tabone: I do prefer the romantically roles. In opera we sing very often the romantic one, at least when you are a Tenor. There are not many bad guy roles I think I would like to play. Maybe in musical theatre, but my passion is with opera. I love doing this show because it's an opera for me and not just a musical.
Lena Gronewold: Are there any musical roles would wish to play in the future?
Paul Ettore Tabone: I probably would love to give Jean Valjean (A.d.R. from Les Miserables) a go at later date. It depends really. I am so open to so many different genres. My passion for music doesn't stop at one or the other, so I am open to anything.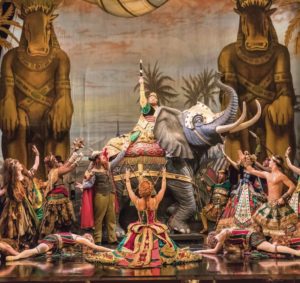 Lena Gronewold: Do you have an all-time favourite memory or story from your time on stage?
Paul Ettore Tabone: I have so many. I suppose it's the funny ones you never forget. Personally I will never forget that time in Hamburg, when we were pushing Masha Karrell on stage at the end of the show. She really wanted us to get hand on with her as she is a very method actor. She was really struggling with us and one day we got a little bit carried away and pushed her and she hit the floor so hard. She was on the floor and we were like "Oh god, what have we done?" but she continued acting from the floor. We thought, when we got off stage she was going to be so angry, but she was like "Boys! That was amazing!". She just loved the fact that we had slammed her onto the floor, she loved it.
Lena Gronewold: What are the differences in theatre culture across the countries you worked in? Are there any differences?
Paul Ettore Tabone: There are big differences. In Australia we do things very similar to London, going to Italy the theatre is a much different place. It's a place of passion, a place of origin, it is really a place where in specific theatres, and you feel the history happened there. Here at Her Majety's Theatre several operas had their debut that's pretty cool to say. In Australia you don't have that kind of history in theatres that's a huge difference.
Lena Gronewold: You speak English as well as German. Did you learn it especially for Love Never Dies? And do speak any other languages?
Paul Ettore Tabone: I speak English, German, and Italian and at the moment I am learning French. German I learned while I was in Germany. I never really learned it before, but because at that time I had a German partner and I was in a German production, I learned it very quickly.
Lena Gronewold: Do you have plans for the future that you can share with us? Can the German fans hope to see you back in Germany one day?
Paul Ettore Tabone: I would love to go back to Germany one day. But for now I think I will be staying here. However nothing is 100 percent sure at the moment. But who knows? I would love to come back to Germany as it has a really special place in my heart.