It's getting international! The charismatic actor Kieran Brown, born and trained in Scotland, is currently acting as Swing and cover for the title role in Andrew Lloyd Webbers Phantom of the Opera in the West End. Before that Kieran was Elphaba's Father and cover Dr Dillamond/Wizard in Wicked as well as cover for Raoul in London's production of Love Never Dies. The German-speaking musical fans might already know him from many concerts and cabarets in Vienna, the concert version of Love Never Dies in Vienna and "tick, tick… BOOM!" at the Drachengasse. Recently he has been back on stage in Vienna in a solo show.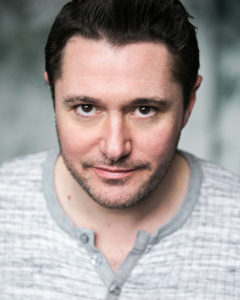 Lena Gronewold: I imagine Swing life to be crazy and confusing. How do you manage to remember which lines to say when you are on stage covering for one of your fellow cast members?
Kieran Brown: TBH the ensemble tracks at POTO are fairly simple. We are well rehearsed before we go on, and as an incredibly supportive cast, we keep each other right!
Lena Gronewold: You are also covering the role of the Phantom. Which aspect of this role do you love the most?
Kieran Brown: I enjoy trying to portray his human side. It's easy to just see him as a monster. I had friends watching me when I was on last week and they overheard a whole family behind them arguing whether he was good or evil. Half of them were crying at the end and the others couldn't understand why they would feel such sympathy for him. That's in the genius of the writing. It's a very special feeling when make up is done, finish getting dressed and the last thing I do is put on the mask.
Lena Gronewold: When you are in the audience, what do you love most about being in the theatre?
Kieran Brown: The excitement and sense of occasion. Theatre etiquette seems to be on the decline at the moment, so I hope we can keep younger audiences especially viewing a visit   to the theatre as something special, something to look forward to , and something worth respecting.
Lena Gronewold: Do you have a favourite among all the musicals?
Kieran Brown: Ooooh I have too many! Les Miserables is up there, The Witches of Eastwick, Sunset Boulevard, Into The Woods.
Lena Gronewold: You have been on stage in Vienna's Theatercouch recently for a solo concert. May the German audience hope to see you on stage in Germany as well?
Kieran Brown: I am hoping to repeat Suzanne Carey and I's sold out concert from November in Vienna, West End To Broadway at some point in Berlin very soon! We have an invitation, it's just a case of finding a date that works for everyone. I love Germany, l had the most wonderful time when I toured there for around 3 years so would jump at the chance to visit again!
Kieran can be seen at Her Majesty's Theatre in London in Phantom of the Opera.
More information at:
www.kieranbrown.com
Twitter: @Kierbro